The documentary film focuses on the stone industry, and China's first stone blockbuster starts shooting in Nan'an
On July 14, the documentary film project "Nan'an Stone" (tentative name), a documentary film project co-operated by the Nan'an Municipal People's Government and the Shanghai Film Academy of Shanghai University, went to Shuitou Zhongmin Stone Town for shooting. It is understood that "The Story of Nan'an Stone" is the first large-scale documentary showing the stone culture in a panoramic view in China. It will trace the origin of the stone and promote the stone culture by combing the development history of the stone industry in Nan'an. "Nan'an Stone Story" is initially scheduled to be produced in three episodes, each from 30 minutes to 45 minutes, and the estimated shooting period is two months.
According to reports, "Nan'an Stone Story" is divided into two groups of documentary team A and B and a short video team, and the filming operations are carried out in Nan'an in an orderly manner. It is worth mentioning that after the shooting of "Nan'an Stone Story" is completed, the documentary team will also shoot an image promotional film for the Shuitou Stone Fair.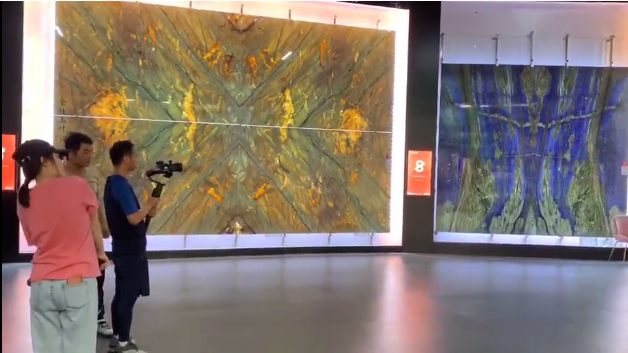 The documentary team's trip was shot in Zhongmin Stone City, aiming to further explore the cultural heritage and artistic value of stone through Tianxiashi Wenchuang and No.15 Global Stone Culture and Art District, so as to better show the world the blend of natural stone and fashion The charm and broad application areas.
At the same time, the documentary team is also looking for more suitable shooting scenes in Zhongmin Stone City, and filming more materials for "Nan'an Stone Story" to show the Nan'an stone industry culture and systematically record the historical origins of Nan'an Stone people's love for stone culture.
I believe that with the orderly progress of the shooting plan of "Nan'an Stone", the popularity and influence of Nan'an's stone industry will be further enhanced, and the national stone people who are closely linked with stone will also use this to interpret the dreams and dreams brought by stone. strength.