good news! Five stone products were selected as nominated products for the 3rd Nan'an Ban Souvenir!
In order to enrich the tourism experience, focusing on the two tourism elements of "eating and shopping" among the six tourism elements of "eating, housing, transportation, travel, shopping, and entertainment", on the occasion of China Tourism Day on May 19, 2020, Nan'an City Culture and Sports He Tourism Bureau launched the "Nan'an City Featured Souvenirs Solicitation Activity", one of the series of "Hai Silk Nan'an Meets Beautiful" activities. The purpose of the activity is to find the most representative "fireworks flavor" in Nan'an, guide the transformation and upgrading of Nan'an food, handicrafts and other types of enterprises, open up a new tourism souvenir marketing market, cultivate and develop the Nan'an souvenir industry brand, and develop companions Promote the development of tourism in the southern safety region.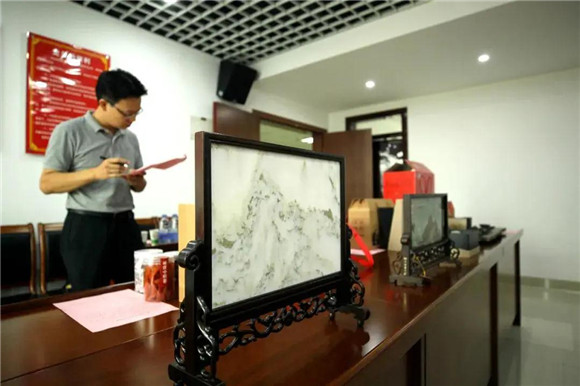 ▲Judging site
After nearly 2 months of solicitation, a total of 29 companies selected 40 products and participated in the selection of Nan'an Special Souvenirs. According to the "Interim Standards for the Identification of Nan'an Souvenirs", 1 participating unit without relevant licenses was screened out, and a total of 39 products selected and sent by 28 units entered the preliminary evaluation.
▲Judging site
On the morning of August 18th, the Nan'an City Culture, Sports and Tourism Bureau organized experts and scholars in the field of culture and tourism from Quanzhou and Nan'an to conduct a detailed review of the 39 products that entered the preliminary review. According to the four selection criteria of "Nan'an local characteristics, gift requirements, portable and easy storage, and image creativity", the participating products were reviewed and voted to produce 20 products nominated for Nan'an souvenirs. Among them, "Rock-made marble signature pen series desktop stationery" from Quanzhou Leading Traveler Culture Communication Co., Ltd., "Marble Whole Stone Wireless Charging" from Nanwei Stone (Quanzhou) Co., Ltd., and "Natural Stone Five Elements Cup" from Quanzhou Tianxia Stone Cultural Creative Co., Ltd. Five stone products including "Art stone painting (calligraphy combined with natural stone painting)" and "Chinese-style small screen" were selected as the nominated products of Nan'an Ban Souvenir. (The order of shortlisted nomination is based on the order of registration, the same below.)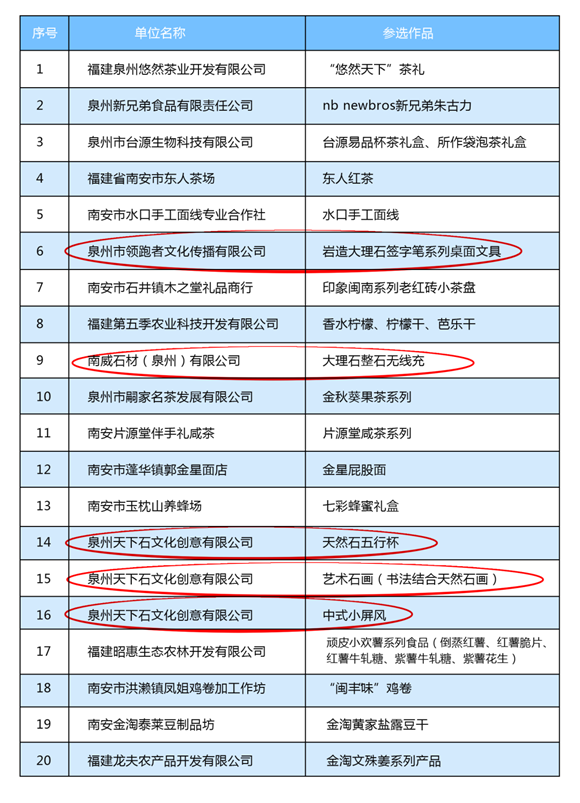 From August 21st, the Nan'an City Culture, Sports and Tourism Bureau will work with Haisi Business News to conduct online citizen voting for the 20 nominated products, and vote for 1 company to win the honorary title of "Best Popularity Award". Of souvenir products. At the end of the event, 15 souvenirs will be selected to be shortlisted for the third Nan'an souvenir list based on the comprehensive opinions of citizens' votes and expert judges' votes.